Justin Bunnell
Yo Adrian! I Need Some Marketing Help!
There is nothing that gets the heart pumping and the goosebumps bumping like a classic underdog story. When the circumstances seem too severe to overcome, and the likelihood of success is meager at best, only the perfect combination of motivation, belief, and effort can lead to triumph. In the film industry, some of the most popular and enduring underdog stories are derived from boxing cinema. Examples include Raging Bull, Million Dollar Baby, The Fighter, Cinderella Man, and many more critically acclaimed prizefighting tales. Although Hollywood is full of these inspirational 'rags to riches' boxing storylines, there is one that remains the undefeated champion. The iconic 1976 film "Rocky" set the groundwork for the archetype of the boxing movie, and, indeed, has been one of the most successful and enduring film franchises of all time. How is Rocky like marketing?
Just like Rocky, small businesses across the United States are fighting to become the reigning champions of their industries.
"Rocky" tells the story of a perennial underdog from the city of Philadelphia, Rocky Balboa, a small time heavyweight boxer and reluctant debt collector with more bruises on his face than dollars in the bank. His only companions are his pet turtles, Cuff and Link, and his cynical best friend, Paulie Pennino. Unlike later underdogs, who are generally shown on their way up, Rocky was already approaching middle age by the original film, and his hopes of boxing glory were fast waning. To add to his troubles, his primary trainer, Mickey Goldmill, has recently substituted him with a newcomer because he believes Rocky to be a "bum" – a perpetual loser unable to achieve his full potential. However, Rocky's luck is about to take a surprising turn when the world champion, Apollo Creed – a charismatic showman clearly based on Muhammed Ali – and his team decide they want to give a small-time fighter a championship match for publicity purposes. Apollo chooses "The Italian Stallion", Rocky Balboa! Finally, the habitual undercard fighter has a shot at the title, but he will need to effectively marshal all his resources in order to stand the slightest success.
Apollo Creed chose to give the underdog a chance because he wanted an easy win, but also because of his belief that America was the "land of opportunity". Just like Rocky, small businesses across the United States are fighting to become the reigning champions of their industries. Nonetheless, before a startup can put on their gloves and step into the ring, there are some essential marketing actions that must be considered.
Here is how the main characters in the movie "Rocky" can be seen to relate to the necessary support that a strong marketing mix can provide to a new business.




Rocky Balboa – The Startup
Rocky Balboa, similar to a new company, is keenly awaiting the perfect moment to achieve his full potential. For Rocky, that moment came when he receives a proposal from Miles Jergens (Apollo's Fight Promoter) to fight Apollo Creed for the title on New Year's Day. For a startup, or a small business, this opportunity appears when there is a market with needs that the company believes they can provide. To be effective, they need to have a product or service that offers more value to the customer in comparison to their competition. In other words, they possess the skills necessary to reach their core objective of besting their rivals. Not only did Rocky ultimately achieve his goals because of his loyal support system, but also because he possessed the underlying talent, skills and heart fundamental to being a great fighter. Integrating these skills with a vision, determination, and a product or service you wish to provide is essential to any company worthy of a championship belt. Now it is time to acquire the necessary marketing support to capture that value your company wishes to deliver.


Adrian Pennino – The Marketing Plan
Adrian Pennino, Rocky's female companion and later wife, remained by his side from when he was a "bum" in Kensington, to the fighter's later legendary status as a living symbol for courage and tenacity. Through every bump in the road, or bump on his head, Adrian stood by him through the good times and the bad, and supported his dream. Each time Rocky had even the slightest doubts, she would remind him of his true capabilities. Just like Rocky's Adrian, every company needs something they can rely upon when difficulties arise. This something, this "Adrian", can be a marketing plan.
Having a detailed strategy for your marketing scheme will help communicate the extra value or differentiation that your product or service offers to potential customers. A well-developed marketing plan also assists in the daily operations of your business, and keeps everything under control. When Rocky's anxiety before a big fight would begin to set in, he knew he could rely on Adrian to comfort and motivate him. When your company begins to become overwhelmed by the various marketing activities in place, a structured plan will ameliorate any concerns that arise. A marketing plan can help you stay motivated, manage your performance, and appropriately allocate your resources – allowing your company to remain fighting fit. One of the most memorable lines in the movie is at the end of the highly contested match. Rocky is immediately surrounded by microphones in the ring, but instead of answering the barrage of questions, all he can do is yell, "Yo Adrian!" in search of his beloved girlfriend. If you are ever in desperate need of marketing organization, and have a "Yo Adrian!" moment, you will know to look to your marketing plan for support!


The Cornermen – The Advertisement, The Website, and The Media


Paulie Pennino – The Digital Approach
Good ol' Paulie. The brother of Adrian, the right-hand man of Rocky, the foul-mouthed meatpacker who loves an ice-cold one to complement his cynical, if astute disposition. Although Paulie didn't have the utmost respect for people, he knew how to increase recognition for his meat company. For the big fight, spotting a clear branding opportunity, Paulie put the company name "Shamrock Meats" on the back of Rocky's robe – an obvious example of a traditional advertisement.
Nowadays, however, advertising has evolved into numerous digital methods, including paid search, display advertising, social advertising, and video pre-roll advertisements. These approaches have a high success rate which is backed by results, and should always be considered for a strong marketing mix. In order to go the distance, digital advertising is always something you want in your corner when the going gets tough.
Tony "Duke" Evers – The Media
Tony is one of the few characters to appear in all six films of the original Rocky franchise, dispensing helpful advice and encouragement and providing a useful counterpoint to the sometimes abrasive Paulie. Just as Rocky was reliant upon a team who offered distinct strengths, modern companies should adopt a range of different approaches to the media. Key amongst these are social media and content marketing. Typically, potential buyers research a product or service before making any purchasing decisions. Just like Rocky, customers desire a variety of insights and perspectives before making the decision to purchase, and having high-quality content can be what converts someone from a consumer of content into a customer.
The rise in popularity of social media is reflected in businesses' increasing adoption of platforms such as Facebook, Twitter and Instagram to provide content to their audience. According to Social Media Examiner, 97% of marketers now utilize social media. This is because having an active social media presence can significantly boost brand loyalty, recognition, website traffic, and much, much more. It is cost-effective, and is thus highly recommended for when you want to come out swinging.



Mickey Goldmill – The Website
Mickey is the driving force and inspiration behind Rocky's rags to riches story. Although he initially had his doubts, thanks to Rocky's belief in his abilities, he proved to be the best cornerman a boxer could wish for. Moreover, he was Rocky's head trainer, and the foundation for Rocky's later success.
Mickey was Rocky's backbone, and so, to any business, is the company website. Just as a bad trainer will create bad fighters, a poorly designed website almost guarantees failure before the fight has even begun. In contrast, just like Mickey, an intuitive and appealing website will provide a firm foundation for success.

Many consumers will visit a company website if they have even a token interest in what you have to offer. Your website is like the initial impression given by a fighter when he swaggers into the ring, and displaying your credibility on your webpage from the outset only increases your opportunity for potential consumers. You want your website to have functionality, show professionality, and produce an overwhelmingly positive experience for the viewer. Having a website is vital to any business looking to be a contender, and it is important to make sure it reflects the qualities your company exemplifies.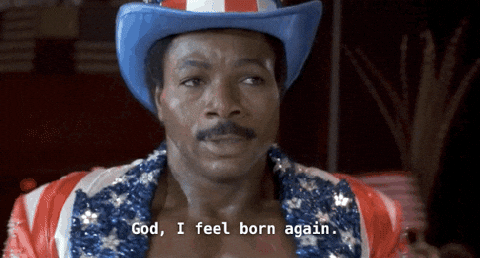 Apollo Creed – The Competition
Now for the main event. In the right corner, the challenger, in the economically priced suit from Men's Warehouse, weighing in at 191 pounds, the startup! In the far corner, in the expensive tailored ensemble, weighing in at 220 pounds, the current heavyweight champion – your competitor! Now that you have your marketing tactics in place, and a comprehensive and well-structured strategy by your side, you are ready to face your opponents. The bell has been rung, and now it is time to focus on the chosen industry and customer segment you want to reach. Just as boxers must work to their strengths to win, focusing on a specific market will help create a following, and stimulate future growth in order to face the reigning champions, the market leaders. Then you must find what makes you different, the qualities that put you one step ahead of the competition you are facing, and fully embrace them! Just like Rocky's left hook, your product or service needs unique features that give it the power to achieve a knockout blow.
An attractive market, an excellent product or service, and a well-designed and adaptive marketing mix can help put the competition down for the count. Although at first the person in the opposite corner may appear intimidating, do not let fear hinder your full potential. No business can be reliant on one element alone, just like Rocky, utilizing a range of strategies and forms of support can give your organization the shot at the title it deserves.